SOLD OUT -Nautic Sport- SP18600 - XD Sportsman Emergency Power Supply - 18,000mAh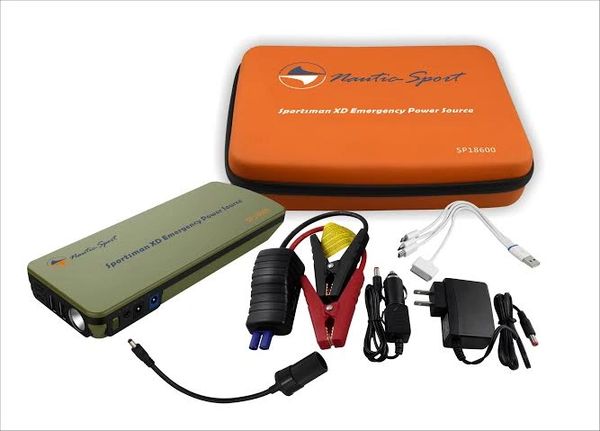 SOLD OUT -Nautic Sport- SP18600 - XD Sportsman Emergency Power Supply - 18,000mAh
Xtra Duty - XD Emergency Power Source for the Sportsman/Hunter/Camper
18,000 mAh Reserve Power Supply and Jump Starter
Compact design allows you to easily carry it in your pocket, backpack, or glove box. 

Built in safety features that prevent overcharging and any short circuit problems.

Only 6 hrs charging time required

Stays fully charged for over 8 months when not in use

Power source for Laptops (Adapters Sold Separately), Cell Phones, pad devices, or any USB device.

Emergency Power for 12v Accessories like GPS, Fish finders, portable compressors, spotlights, etc. Comes with one 12v adapters.

Will jump start up to a 8-cylinder engine, multiple times without recharging.

Water-Resistant Case, with waterproof zipper and it floats.

OUTPUTS

2 USB Outputs - 5v-2amp and 5v-1amp outputs

12v-10amp output

19v-3.5amp output (laptops)

Jump start output (300CCA/600PeakAmps)

Super bright emergency flashlight with constant, strobe, and SOS flash. 
Comes Complete With:

Home Charger

Car Charger

4-IN-1 Phone Charger Adapter

12v Cigarette Lighter adapter

Intelligent Jumper Cable

Water Resistant Zipper Hard Case
Reviews